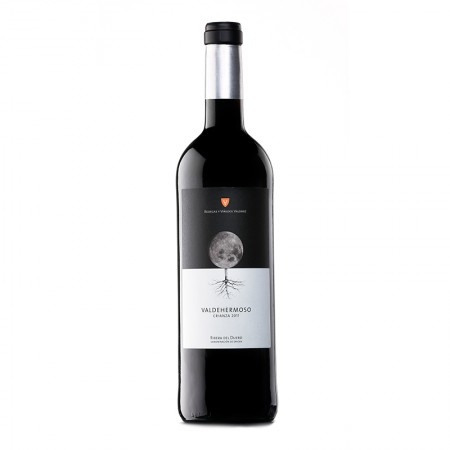 Valderhermosco Crianza 2015, Valderiz, Ribero del Duero
The vineyards at Bodega y Viñedos Valderiz cover 60 hectares, spread out over more than 35 plots on different soil types, the vines are pruned as traditional low "goblet" bushes. The vines were grafted with cuttings from The Esteban's old family vineyards. The family is among the pioneers of organic farming in Ribera del Duero. The complete absence of herbicides, pesticides and fertilisers is their trademark. Looking for future improvement, they are introducing biodynamic viticulture. They are now certified biodynamic. The grapes come from vineyards planted by Tomás Esteban and range from 10 to 18 years old. They yield a production of 4,500 kg per hectare and are totally free of any artificial fertilizers or chemical treatments. The fermentation process is very gentle without intensive extraction, in stainless steel tanks with a capacity of 20,000 kg. During production no enzymes or yeasts are used that do not come naturally from the grapes themselves.
Grape Varieties: Tempranillo
Tasting Notes
Aged in French and American oak for 14 months and this 100% Tempranillo (or known locally as Tinta del Pais) is delicious! Plenty of deep red and black fruit with sweet spice and liquorice. The oak is perfectly integrated with the fruit and the finish is warm and generous. It has some savoury and dried fruit notes to add to the complexity.