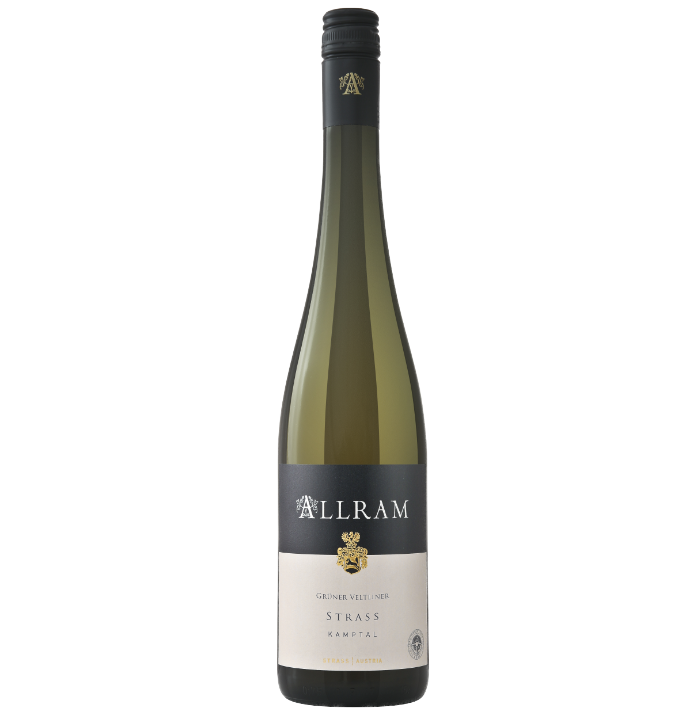 Allram Gruner Veltliner Strass
Allram Gruner Veltliner Strass is a white wine made from grapes grown in the Strass vineyard in the Kamptal wine-growing region of Austria. Gruner Veltliner is Austria's most famous grape variety. It is also grown in Slovakia, Hungary, Czech Republic and, more recently, there have been significant plantings of Gruner Veltliner in New Zealand.

Weingut Allram is located in the Kamptal wine-growing region of Austria at Straß im Straßertale. It has been one of the leading wineries in the region for many decades. Michaela Haas-Allram took over the business from here parents in 1992 and has since operated the winery together with her husband, Erich Haas. Erich and his son Lorenz share responsibilities in the vineyard and cellar whilst Michaela Haas-Allram is responsible for the commercial side of the business.

The Gruner Veltliner grapes for this wine come from the Strass vineyard. The soils here are primarily slate, gravel and loess soil with some elements of lime stone which helps to produce a dignified Grüner Veltliner which shows the great potential of its soils. The grapes are handpicked and undergo a short maceration period followed by temperature controlled fermentation at 19°C with maturation on fine lees till bottling.
Vintage: 2019
Grape Varieties: Grüner Veltliner
Produced by Allram
Allram has been one of the leading wineries of the Kamptal for decades, with holdings of Riesling and Grüner Veltliner in the famous vineyards of Heiligenstein, Gaisberg and Renner. For the owners Michaela and Erich Haas-Allram, the main factor of producing exceptional wines is to be found already in the vineyards. The cellar is now run by Lorenz, the new generation. His goal is to harvest the very best fruit, show real varietal character and to produce wines with intensity and finesse. Riesling thrives in Lorenz's hands, with the 2016 Gaisberg winning 97 pts at the International Wine Challenge in London receiving the white wine trophy.
Tasting Notes
Classic Gruner Veltliner. Fruity and fresh with a slight spiciness on the palate. There are aromas of pear and green apples with crisp citrus nuances.