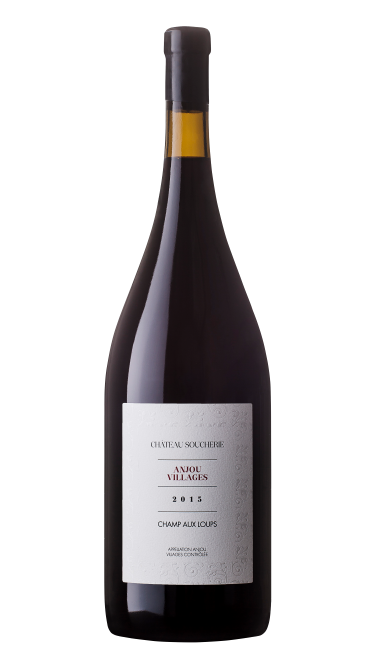 Champ aux Loups, Anjou Villages, Chateau Soucherie
Produced from 55 year-old vines. Topsoil of sandy clay to a depth of 20cm then after a 40cm layer of sandy silt lies a one meter depth of silt and sandstone.
Wine making/Ageing: Manual harvest in 25kg crates, The grapes are destalked before being placed in barrels. After a phase of cold maceration, fermentation begins naturally. After fermentation the wine is racked off then returned to the same barrels followed by light filtration before bottling. This fermentation takes place in barrels purchased from Château Léoville Las Cases.
Vintage: 2016
Grape Varieties: Cabernet Franc
Produced by Chateau Soucherie
Learn more about Chateau Soucherie
Tasting Notes
An intense, rich, ruby colour. Nice and fruity on the nose thanks to the beautiful maturity of the Cabernet Franc combined with the freshness associated with this variety when grown on shist soils. Clear, with a subtle appearance of graphite. The mouth is well-balanced with a tight tannic structure but with-out harshness. Good length at the finish. This is a wine with the potential to lay down for up to ten years.
Download Technical Note