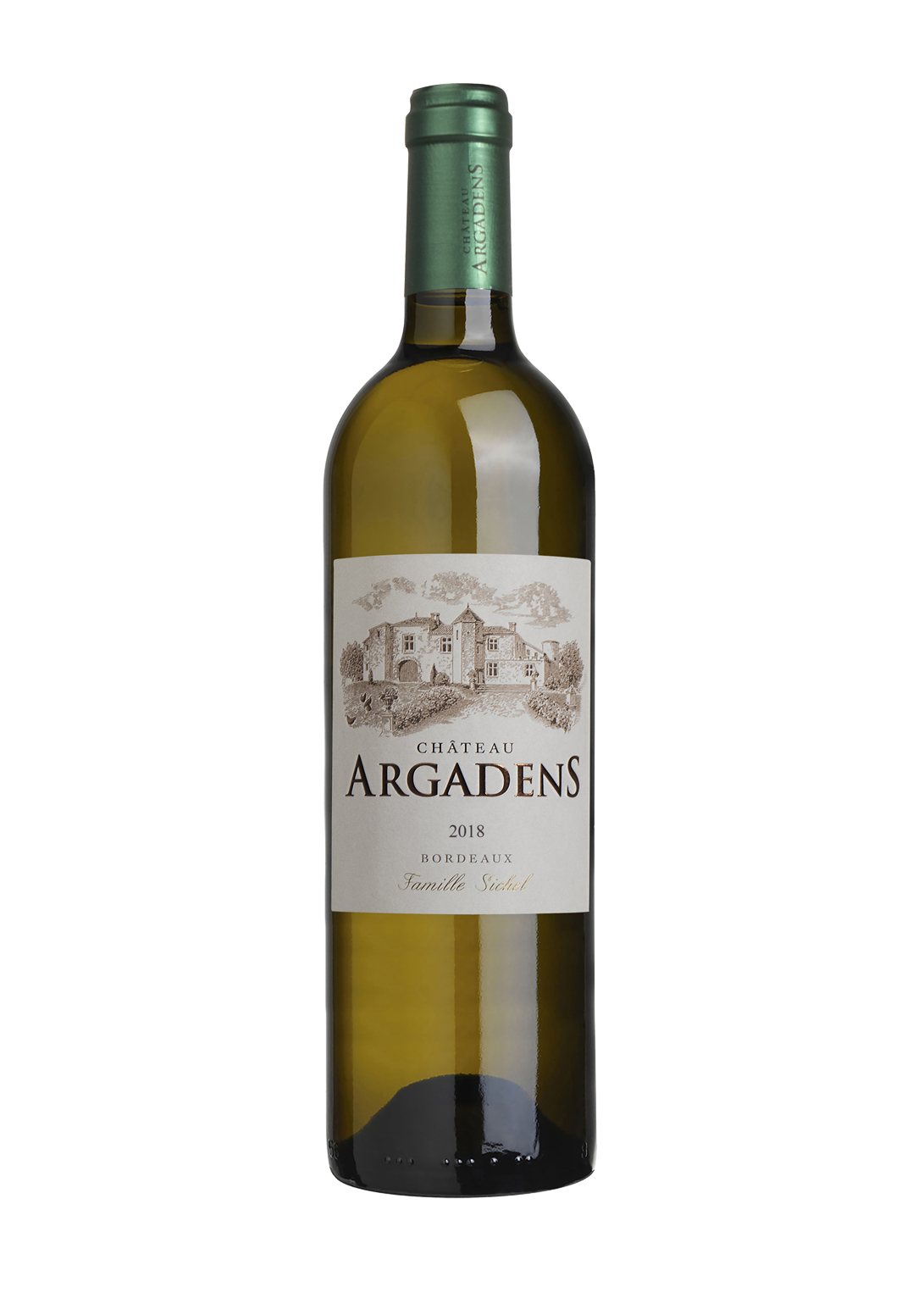 Chateau Argadens Blanc, AOC Bordeaux
The original name of this property, parts of which date back to the 12th and 16th centuries, was La Salle d'Argadens. It became Château Argadens in 2002, when it was bought by Maison Sichel. Sichel's aim in acquiring Argadens was quite simply to see it express the full potential of its wonderful terroir and become one
of the benchmark properties in the Bordeaux Supérieur category. To achieve this, the company has invested heavily in terms of finance, time and technology. Sichel's first vintage at the estate was 2002. The vineyards covers 45ha, 3ha of which produce white wine
AVERAGE AGE OF VINES 30 years
GRAPE VARIETIES Sémillon and Sauvignon
TERROIR
Covering 45 hectares of clay-limestone soil in a single plot, Argadens is superbly well situated on one of the highest hills of the rolling Entre-Deux-Mers wine region (one of the five highest points, in fact, of the Gironde). The vineyard is thus extremely well drained and extremely well exposed to the sun and the air
Vintage: 2017
Grape Varieties: Sauvignon Blanc, Semillon
Produced by Maison Sichel
Ever since it was set up as a buying office in Bordeaux in 1883, Maison Sichel has remained, first and foremost, a family business .
Since that time, seven generations of the Sichel family have succeeded one another at the company's helm. Today the family own significant vineyards in Bordeaux, including Chateau Angludet and Chateau Palmer. The company has undergone dramatic transformation over the past 50 years, with the purchase of a winemaking facility, construction of a bottling plant, acquisition of two estates as well as a négociant vinificateur.
Learn more about Maison Sichel
Tasting Notes
Brilliant in appearance with pale yellow tints, this wine offers a powerful nose, its fruity notes of apricot and grapefruit zest underpinned by subtle nuances of acacia blossom and boxwood. A blend of Sauvignon and Sémillon, it displays superb balance on the palate, which is supple, fleshy and vibrantly fresh. A long finish with notes of tropical fruit and peaches.
Download Technical Note