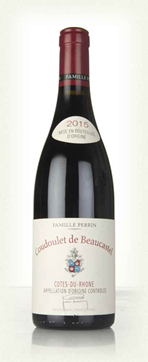 Coudoulet de Beaucastel Rouge, Cotes du Rhone
The 30 hectares of Coudoulet are located just east of the vineyard of Beaucastel on the other side of the A7 motorway. Coudoulet is often considered the baby Beaucastel. The Coudoulet soil has many similarities to that of Beaucastel. It is made out of Molasse seabed covered by diluvial alpine deposits. These pebbles called "Galets Roulés" play a big role: They take in the heat during the day and let it if off slowly at night which gives a good start to the vines in the Spring.
Vintage: 2017
Grape Varieties: Grenache Rouge, Mourvedre, Syrah
Produced by Famille Perrin
The Famille Perrin is the leading organic wine grower of the Southern Rhône Valley where they occupy the regions best terroirs. Their values have given them a worldwide reputation for excellence: absolute respect for the soil, a commitment to manual methods and a deep belief that organic viticulture is the only way to express the true essence of the terroir. Moreover the combination of talents within the family ensures the continuation of their unique expertise. Nature and tradition are key to the Famille Perrin way and this approach has continued seamlessly over five generations.
Learn more about Famille Perrin
Tasting Notes
Beautiful dark colour, this Coudoulet red reveals great elegance with a spicy character, exuberant with melted tannins. A beautiful wine that can be enjoyed now and over the next 10 years.
Download Technical Note