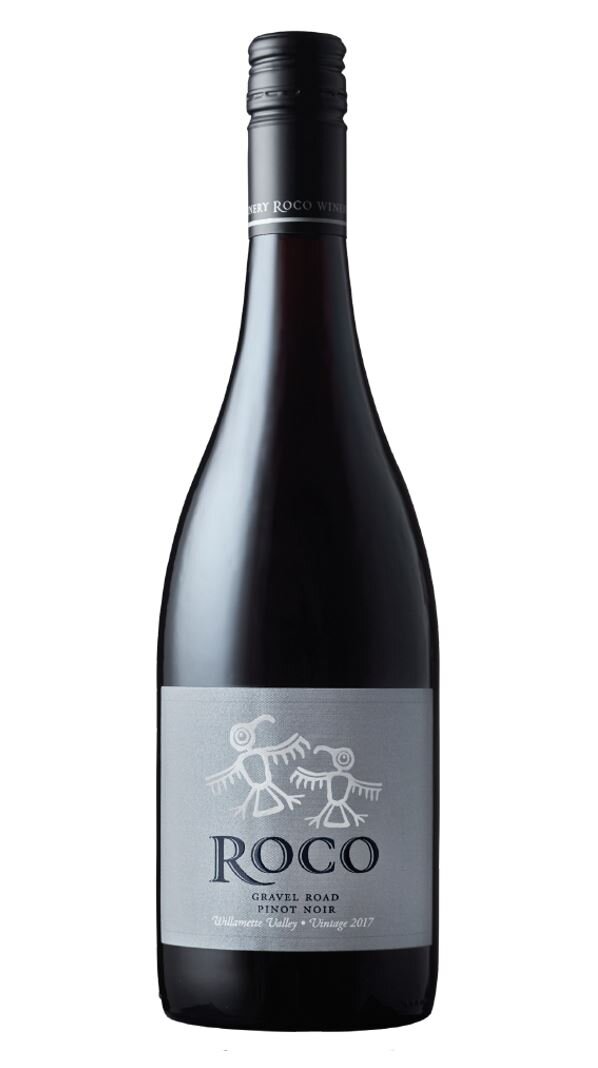 Gravel Road Pinot Noir, Roco Winery, Willamette Valley, Oregon
ROCO Pinot Noir is handpicked and then chilled overnight to 38°F in our large cold room. The chilled bunches are gently de-­stalked and the whole berries fall into small 1.6 ton open fermenters. The berries soak for ten days before beginning ferment with our proprietary, house-­cultured, indigenous wine yeast. Soaking allows gentle extraction of color and flavor from the berry skin, and not the bitter-tasting seeds. The fermentations are hand punched twice a day to mix skins and fermenting juices. Ferments are allowed to reach about 28°C. A post-fermentation soak occurs until the wine is just right for removing from the skins and seeds. At that time the ferment is gently pressed in our modern tank press. The young wine is then sent to barrel for malolactic fermentation to soften the acidity and to add further complexity, then racked once to new, one, two and three-year-old, tight-grained, French oak barrels. The wines are aged in barrel for 18 or more months before bottling.
Vintage: 2018
Grape Varieties: Pinot Noir
Produced by Roco Winery
Family owned and operated by Rollin and Corby Soles, Roco Winery represents the finest in Oregon winemaking. The Soles purchased the vineyards 30 years ago, situated in the Chehalem Mountain Range in the Willamette Valley and the site enjoys an enviable combination of elevation, south-western exposure, diverse soil types, natural springs, and geological aspect. Planting the Wit's End Vineyard in 2001, it was just two years later that they produced their first vintage of Private Stash Pinot Noir showcasing Rollin's small-lot winemaking skills, which was poured at the White House. A winery was built in 2009, later expanding their Wits' End vineyard to keep pace with Roco's growing prestige and demand. Texas-born Rollin has a bachelor's degree in microbiology and a master's degree in enology, and his winemaking balances science and nature, with flying winemaking experience gained in California, Switzerland, Washington and Australia. Roco wines have been named among the Top 100 Wines of the World by Wine Spectator an impressive 13 times, a distinction matched by no other Oregon winemaker. In 2013, Rollin Soles was named one of the "20 Most Admired Winemakers in North America" by Vineyard & Winery Management magazine.
Tasting Notes
The hills in the Willamette Valley are punctuated by gravel roads, which lead to the regions finest vineyards. ROCO's Gravel Road Pinot Noir is a blend of several of the distinctive vineyards including the Soles' own Wits' End Vineyard in the Chehalem Mountains AVA. The Gravel Road Pinot Noir flavour profile surpasses many other wineries flagship Pinot Noirs. The old world style offers bold flavour with balance and grace to pair well with nearly any food.