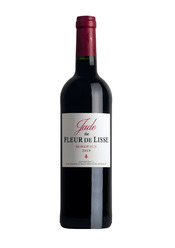 Jade de Fleur de Lisse, AOC Bordeaux
Produced by Vignobles Jade
Part of the Techeney-Roux stable of wines and under the winemaking watchful eye of brothers Jean-Claude and Jean-Francois Berrouet. This is the second wine of Saint-Emilion Grand Cru Chateau Fleur de Lisse. 18 hectares of sandy clay soil, planted with Merlot, Cabernet Franc and Malbec.
Learn more about Vignobles Jade
Tasting Notes
Deep, dense, and youthful. The nose has plenty of ripe black plummy fruit with a generous helping of spicy notes. The palate is rich and intense. It is warm, ripe and spicy. The tannins are silky and supple.
Download Technical Note